Gryphon Books WebNEWS:
Issue #54, October 18, 2015
WebNEWS keeps you up-to-date on news & new books here at Gryphon Books HQ.
PLEASE NOTE: Our email has changed to gryphonbooks@att.net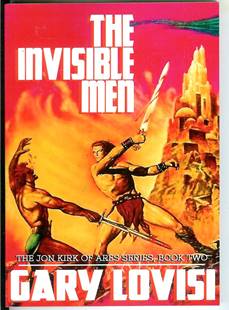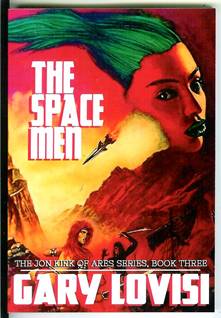 JON  KIRK  OF  ARES  TRILOGY  OUT  NOW!
            The Winged Men was my first Jon Kirk of Ares novel, a unabashed John Carter of Mars pastiche that is a wild fun romp on the violent alien world of Ares, published in 2014. The novel tells the wild tale of an American soldier mysteriously transported to the planet Ares, where he fights brutal warriors, winged monsters and falls in love with  a beautiful princess. Jon Kirk's adventures will thrill you and I feel they capture the pulp action and otherworldy excitement and exotic worlds that Burroughs created in his own John Carter of Mars series.  The Winged Men received great raves from Burroughs scholar Richard A. Lupoff and famed Gor creator John Norman.
            Now the Jon Kirk's saga continues with book #2: The Invisible Men, and #3 The Space Men. These books expand the series and continue Jon Kirk's furious and exciting battle to save the people of his adopted new world and save the woman he loves. Each book is a fast pulp sense-of-wonder action-filled science fantasy adventure.
            All three books will have stunning cover art by Marcus Boas and are published by Wildside Press in new trade paperback first edition originals.
            All three Jon Kirk books are available now at $15 each + postage (copies signed upon request).
            A set of all three books are also available at the special price of $40.00 + postage.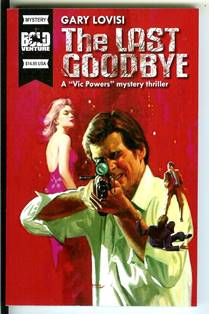 THE LAST GOODBYE
by Gary Lovisi           
Hard-as-nails private eye, ex-cop, and all around bad-boy troublemaker and louse, Vic Powers is back in The Last Goodbye, a new novel of Powers' dastardly deeds among cops and mobsters, along with three classic hard crime Powers stories. If you like hard crime stories, you won't find anything tougher than Vic Powers! This book is out now in a new trade paperback from Bold Venture Press, with stunning cover art by Robert Maguire! $15.00 + postage (copies signed upon request).
PAPERBACK PARADE!
The Magazine for Paperback Readers & Collectors!
Paperback Parade is the longest-running magazine ever about collectable paperbacks of all kinds, published for almost 30 years! Each 100 page, trade paperback, FULL COLOR issue is loaded with articles on important books, authors, artists, publisher runs, along with dozens and dozens of gorgeous full color covers of rare books. Each issue also contains "Paperback Talk" with news, letters, new books and info about the people and books in the collectable paperback hobby. If you are a book collector, reader, or book lover try the new Paperback Parade now! Ad rates are  also very reasonable!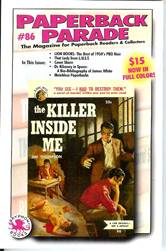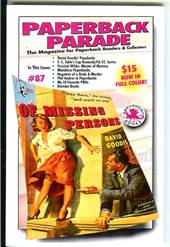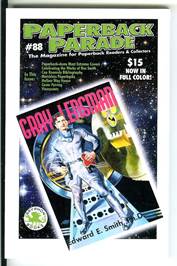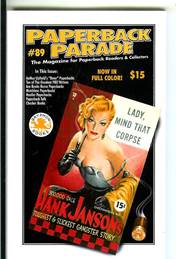 PAPERBACK PARADE #90, edited by Gary Lovisi,  the latest issue form October, 2015, features Phil Harbottle on the rae British Authentic Science Fiction digest series; the crime novels of Day Keene by Richard A. Lupoff; western author Clair Huffaker; Dagmar by Richard Kellogg; the science fiction of Tom Disch by Graham Andrews; Lancer 2-for-1 Books; a look at Lou Cameron's Angel Flight; Pulp Adventurecon 2014 and more, all in full color, trade appewrback, 100 pages, $15 + postage.
PAPERBACK PARADE #89, edited by Gary Lovisi, 104 pages in FULL COLOR, in new perfect-bound trade paperback format, articles include Arthur Upfield's "Bony" crime paperbacks, Ten of the Greatest PBO crime writers, Ace Books Nurse paperbacks, Matchless Paperbacks: Robin Moore, Hustler Paperbacks gga sleaze, rare Checkerbooks, news, ads, letters, more. $15.00 + postage.
PAPERBACK PARADE #88, edited by Gary Lovisi, celebrating the fantastic pulp science fiction of E.E. "Doc" Smith, with booklists, appreciations, articles, also Cap Kennedy Bibliography, Odie Hawkins on Holloway House, cover pairs, Paperback-doms most extreme covers, news, letters, ads, more, $15.00 = postage.
PAPERBACK PARADE #87, edited by Gary Lovisi, crime noir icon David Goodis, E.C. Tubb's Cap Kennedy space opera SF, Percival Wilde crime pbs, Negative of A nude, Phil Andros gay male paperbacks, My favorite 10 PBOS, sexy sleaze gga Domino Books, news, letters, ads, more, $15.00 + postage.
PAPERBACK PARADE #86, edited by Gary Lovisi, June 2014, 114 FULL COLOR pages, in the new perfect-bound trade paperback format, full of great color paperback covers. This issue presents articles on "Lion Books: The Best of PBO Noir" by Dan Roberts; "Eve Drum: That Lady from LUST" by Gary Lovisi; the science fiction of James White by Graham Andrews, also news, ads, letters, more, $15.00 + postage.
PAPERBACK PARADE #85, edited by Gary Lovisi, from March 2014, the first FULL COLOR issue, 104pp, packed with cool paperback covers, with articles on Dr. Calvitt Clarke -- aka Richard Grant who wrote sleaze and gga digests; An Appreciation of fantasy author Neal Barrett, Jr.; the story of beat poet Rik Davis -- aka sleaze author Jack Vast; Guy Endore the man who wrote The Werewolf of Paris; Bruno Fischer, the Everyman Crime Writer; "Hard-boiled Paradise" hard crime vintage paperback classics, + news, ads, letters, more, $15.00 + postage.
A LIMITED number of back issues of PP are also available while they last at $15 each.
Please query on PP back issues you want, or check available copies in the "Catalog" link.
See below for ordering and subscription information.
ANNOUNCING
AN  SF  PUBLISHING  EVENT!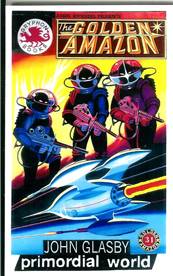 Primordial World
by
John Glasby
Gryphon Books, 2014, 1st book edition, this is the 31st book in the famed Golden Amazon pulp science fiction adventure series, originally created by John Russell Fearn. Glasby continued the series and produced this last novel in the acclaimed series shortly before his death. Gryphon Books has been proud to publish all 31 books in the Golden Amazon series in attractive trade paperbacks. This is a rousing space opera adventure novel, with cover art by Ron Turner and an intro by Phil Harbottle. THE IS A VERY LIMITED AND NUMBERED EDITION OF ONLY 100 COPIES! Available for just $20.00 + postage.
NOTE: A LIMITED amount of previous Gryphon Books' Golden Amazon books are available, but in very short supply, so query first on any books you are missing or need.
The Mystery Surrounding Watson's Lost Dispatch Box
by
Gary Lovisi
MX publishing, 2014, 1st edition UK trade paperback. When young Joseph Adler enters a small Dorchester bookstore to sell a rare old copy of The Strand magazine -- within its pages is discovered what appears to be a sheet torn from the diary of Sherlock Holmes' friend, Doctor Watson -- the implications are incredible. It sets the store owner and his young friend, Juan, on a case that that leads to mystery, murder and revenge -- all pointing to the contents of what may be in Watson's dispatch box. This is my first Juan & Viejo mystery novel. I believe it is a rousing tale in the best tradition of the Great Detective with a new team of amateur sleuths, in a novel that captures the spirit of Doyle's classic Holmes stories in a modern setting. Available now at $15.00 + postage.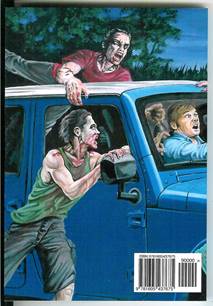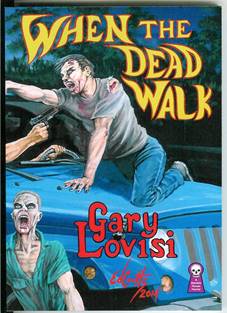 When The Dead Walk
by
Gary Lovisi
Ramble House Books, 2014, 1st edition trade paperback. In rural Louisiana's Macedonia Parish strange doings are going on and putting the fear of death and the walking dead into the people. Sheriff Birch Ellroy heads a small team of rural folk trying to fight the evil necromantic wiles of the witch woman Sabella whose dark magic has brought the dead back to life. An incredible, fun zombie novel. Great cover art by Ed Coutts. Available now at $15.00 + postage.
The Crimson Mask
by
Gary Lovisi, and others
Airship 27 Productions, 2013, 1st book edition, trade paperback original. Presents 4 new pulp stories about this fantastic crime fighting pulp hero from the 1930s. Great pulp fun. My story is "The Mystery Man,"  and is a wild bank heist caper, but all four stories are terrific. Lovely cover art by Andy Fish. Available now at $15.00 + postage.
CLASSIC  OLDIES:
The Great Detective: His Further Adventures
edited by Gary Lovisi
[Borgo Press / Wildside Press, 2012, 245 pages, new trade paperback, $15 + postage]
A great new anthology of Sherlock Holmes tales by Marvin Kaye, Gary Lovisi, Magda Jozsa, John L. French, Lyn McConchie, Richard K. Tobin,  Stan Trybulski, Ralph E. Vaughan, Morris Hershman and Richard L. Kellogg, with cover art by Lucille Cali recreated from a classic 1950s UK Digit paperback. It's a fun book with traditional Sherlock Holmes stories that I know you will enjoy.
Sherlock Holmes: The Baron's Revenge
By Gary Lovisi
(Airship27 Productions, tpb, $15)
In 1902 Sir James Damery enlisted the aid of Sherlock Holmes to prevent the daughter of an old friend from marrying a womanizing Austrian nobleman named Adelbert Gruner who was suspected of murdering his first wife. Doctor Watson would chronicle the case as "The Adventure of The Illustrious Client" By its conclusion, Gruner was exposed to the young lady by Holmes and a former prostitute mistress took her own revenge on the man permanently disfiguring him.
            Holmes believed the matter concluded. He is proven wrong when a hideous murder occurs rife with evidence indicating to him that the Baron has returned. Not only does the Baron wish his death but he is obsessed with causing Holmes emotional suffering – nothing less than the complete and utter destruction of the Great Detective in body and soul.
This fast-paced tale of horror and intrigue is suspenseful and poignant, all the while remaining true to Arthur Conan Doyle's original stories. The book is out now at ABE Books, Amazon Books, the Airship27 web site: www.Airship27hanger.com, and also through Gryphon Books, for $15.00 + postage. Copies purchased from Gryphon Books signed upon request.
BATTLING BOXING STORIES
Gary Lovisi, editor.
(Wildisde Press, tpb, $15.)
This new collection presents 15 of the most intense and hard-hitting stories about the pugilistic arts that highlight all types of boxing. Your ears will still be ringing with the sting of these battles long after you finish this book! Out now from Wildside Press for $15 at their webs site www.wildsidebooks.com, also at ABE Books and Amazon Books, and you can order signed copies from Gryphon Books for $15 + postage.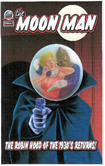 The Moon Man (Volume 1)
With new stories by Gary Lovisi and others
(Airship27 Productions, tpb, $15).
The Robin Hood of the 1930s pulps returns in 5 great pulp crime stories. This is a fun collection of Moon man stories that every hero pulp will enjoy and that stays true to the original character created by Fredric C. Davis. My two stories  are "Bait Trap" and "Out of Business", traditional Moon Man pulp adventures. Available now from the Airship27 and through Gryphon Books.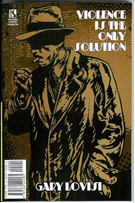 Violence is The Only Solution
by Gary Lovisi
(Wildside Books, Mystery Double #9, $15, tpb) collects three intense hard crime noir stories featuring that bad-boy dysfunctional ex-cop Vic Powers. These are tough crime tales and they include the title story (first publication in the US) as well as Dogs Know" and "Black Vomit", for a guy like Vic, violence is the only solution, if you like the toughest of hard crime then this is one you'll dig! This is a Double book backed with Vivacious Vixens & Blackmail babes by Michael Hemmingson, so two great hard crime noirs. Out now!
BAD GIRLS NEED LOVE TOO by Gary Lovisi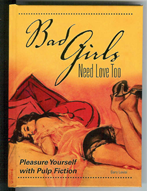 Thrill to the pleasures of sexy pulp paperback cover art gorgeously displayed along with wild, campy, and sleazy blurbs and teaser text that are such a part of these amazing books. This attractive 6 X 8" hardcover book contains almost 200 slick pages crammed full of outstanding sexy pin-up covers, bad girls, steamy situations, wild text and blurbs, all in breathtaking FULL COLOR. It's a frolicking celebration of pulp fiction floozies doomed to keep looking for love in all the wrong places – outrageous glorious pulp excess fun! The book is a feast for the eyes and makes a great gift. Out now from Krause Books, cover price just $12.99 + postage.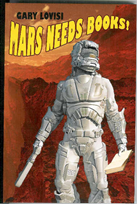 MARS NEEDS BOOKS!
By Gary Lovisi
(Borgo/Wildside, tpb original, $20), an original science fiction novel. Men on Mars seek to escape the oppressive Earth worldwide government Authority that controls all aspects of everyone's life in a dark future with aspects of George Orwell's 1984 and Philip K. Dick's reality dysfunction. Ryan knows his mind has been tampered with, but why? Now he finds himself on Mars and all he does is read – but he only reads the old hard-copy, hard-boiled crime paperbacks from Last Century. Why? Neither Ryan, nor any of the men on Mars trust the digital record or the government – all they trust are hard-copy books and they only read, talk and collect vintage crime paperbacks. It does not make sense. Now Ryan seeks to discover the truth behind this crazy plan, even as the most ruthless leader of the mythical Department of Control, Arabella Rashid herself, is rumored to have come out to Mars.
Murder of A Bookman
By Gary Lovisi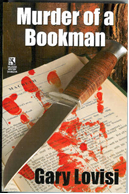 (Wildside Mystery Double #5, 2011, trade paperback original, $15).
A fun biblio-mystery with Detective Bentley Hollow investigating the brutal murder of bookseller Brian MacDonald, who was less than honest in his professional and personal dealings, so there are no lack of suspects. Meanwhile, Hollow has problems of his own, his wife has left him and he has been partnered on the case with a detective he loathes and who hates him. By the time he finds a solution to the crime his life will be irrevocably changed! First of a new series. The other side of this Double is The Paperback Show Murders by Robert Reginald, (cover art by Robert Maguire) where murders at a L.A. paperback show form the backdrop for a fun crime read. Both books are fun biblio-mystery novels featuring fascinating facts and lore from the world of collectable books. Available now from Gryphon Books or Wildside Books at www.wildsidebooks.com), $15.00 + postage.
More Secret Adventures of Sherlock Holmes
By Gary Lovisi
(Ramble House, 2011), this new bestseller collects three Sherlock Holmes pastiches; two long stories that were heavily cut when published now restored to their original lengths and published here for the first time in America. The book includes a new introduction about how the stories came to be written and a Historical Note at the end of each story to put them into historical perspective. [Also see my earlier volume: Secret Adventures of Sherlock Holmes]. Out now from Gryphon Books, or from Ramble House Books at www.ramblehouse.com, in trade paperback for $18.00, or hardcover in DJ for $29.00 + postage.
Driving Hell's Highway
By Gary Lovisi
(Wildside Mystery Double #4, 2011). He had no past and no future, only the long open road ahead of him. What would he find out there? He had no idea, but he knew it would be full of danger and violence. A hard-boiled, surreal noir about a man driving through the dark back roads of America. Double book, backed with Devil's Plague by Michael R. Collings. Out now in trade paperback, $15.00 + postage.
Gargoyle Nights
By Gary Lovisi
(Wildside Double #16, 2011), in the last days of Oldearth's last city the greatest wizard of mystical Shenumbra creates a monstrous gargoyle to carry out his sinister designs – then things get out of hand. Inspired by the fantasy horror fiction of H.P. Lovecraft, Clark Ashton Smith and Jack Vance. A Double book with Do The Weird Crime, Do The Weird Time by Don Webb. Out now, trade paperback, $15.00 + postage.
Ultra-Boiled:
23 Hard Crime stories by Gary Lovisi
This new Ramble House trade paperback contains 23 of my best hard-boiled and noir crime stories; reprints as well as new shocking originals, with cover painting by famed artist Joseph Cali. The book is 275 pages, and is out now for $20 in trade paperback; $35.00 in the limited hardcover in jacket + postage, from Gryphon Books [copies signed on request] or from www.abebooks.com, www.alibris.com and Ramble House Books through their website at www.RambleHouse.com.
Dames, Dolls & Delinquents
A Collector's Guide to Sexy Pulp Fiction Paperbacks
by Gary Lovisi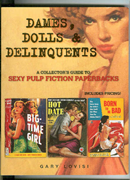 This big, beautiful 8.5 x 11" book shows over 700 of the best sexy paperback covers with information on the artists and price values for each. The best of US, UK, Canadian, Australian bad girl, femme fatale, fetish and incredible covers in large size (only 4 cover images per page) with some full page. All the major sexy cover artists are represented with their best work: Heade, Maguire, McGinnis, Nappi, Rader, Bonfils, Gross, Rodewald, Ward, more! The book is 225 pages, in FULL COLOR on quality slick paper and trade paperback. You will LOVE it! Available now for $20.00 + $5 Priority Mail Postage. A LIMITED NUMBER IN STOCK.
BOOK SALE!
ARE YOU LOOKING FOR A SPECIAL BOOK?
Many books are out-of-print or rare today.  We now offer 6,000+ collectable paperbacks AND MORE ON THE WAY SOON -- in all genres, many scarce vintage British, Canadian and Australian paperbacks and digests, hard covers and magazines (including sexy digests of all types) in various condition and at reasonable prices at my website: www.gryphonbooks.com. At the Main Menu just click on the "Catalog" then clink on  "Here" and put in the author name, title, or other search interest.
Good hunting!
Honky-Tonk Girl
by Charles Beckman, Jr.
(Borgo Press/Wildside, tpb, $16) with a new introduction by Gary Lovisi, is a classic hard crime noir and jazz novel by this famed Texas jazz musician and pulp writer. This new edition reprints the rare Falcon Books digest with the same cover art in a new attractive and affordable edition for the first time in 60 years! It's a terrific read and stunning jazz noir tale that has become a lost masterpiece. NOW IN STOCK
West Texas War and Other Western Stories
by Gary Lovisi
Ramble House Books, Contains the title novel and 6 great western short stories, with an introduction by Ed Gorman, trade paperback, $20.00, hardcover in jacket $35.

The Secret Adventures of Sherlock Holmes
by Gary Lovisi
contains 3 Holmes pastiche stories, including my Edgar Nominated story "The Adventure of The Missing Detective" and an Afterword by famed author Richard A. Lupoff, trade paperback $19; hardcover in dust jacket $29.
Both books available now from me or the publisher:
Ramble House Books, at their website at: www.ramblehouse.com
Hardboiled #47 edited by Gary Lovisi.
Sadly, this is the LAST issue of this famed hard crime digest size magazine that has bee published for almost 30 years -- it starts off with C. J. Henderson's last Jack Hagee story, as well as fiction by Pearce Hansen, G.D. McFetridge, Jed Power, Justin Swartz, Albert Ashforth, Thomas Pluck, John Bruni, Gerald E. Sheagren, Peter Hardy and John Corsi, with cover art by Rick Hudson, 100 pages, color covers, $10 + postage.
(HARDBOILED issues #46 and earlier are also available, but in very limited supplies so query first on any numbers you are interested in. All issues are $10 each + postage)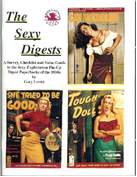 The Sexy Digests by Gary Lovisi, this price guide, survey and index to the sexy pin-up and exploitation digest paperbacks of the 1950s has been reprinted in a new edition, color covers, large size trade paperback with hundreds of startling sexy covers shown in large b&w images, new, $40.00 + postage. LIMITED NUMBER IN STOCK.
ORDERING  INFORMATION:
We accept VISA, Mastercard, US checks drawn on a US bank, (in USD only) or Paypal to our email address at "gryphonbooks@att.net"
All books are priced + you must add payment for postage.
See postage rates below.
Please contact me with any questions or write to our address:
GRYPHON BOOKS
PO Box 280209
Brooklyn, NY 11228-0209
USA
SUBSCRIPIONS:
Paperback Parade magazine: Each issue is $15.00 + postage. Query on back issues.
Subscriptions:
Domestic: 3 issues for $40.00
ALL INTERNATIONAL: 3 issues $65.00
POSTAGE  RATES  FOR  BOOKS:
Domestic: the first item (book) is $3.00 media mail + 50 cents each additional item.
International: the first book is $14.00 via First Class International, $3.00 each additional book.
All books and magazines are mailed through the U.S, Postal Service.
Query on Priority Mail or other mailing methods.
PAYPAL: You can now pay using Paypal to this email address by clicking on the Paypal link on our homepage. This will take you to Paypal. If you have Paypal you can pay using your Paypal. If you do NOT have Paypal you can still make payment through Paypal using your credit card. Please be sure all Paypal payments include: postage, details on exactly what you are buying, and your complete delivery address.
Just Out or On-The-Way by Gary Lovisi:
The Secret Adventures of Sherlock Holmes: Book 3, a new classic collection of four Sherlock Holmes pastiche stories in trade paperback, third book in the classic series, out in the fall from Ramble House Books.
"New Blood" short hard crime story in future issue of Pulp Adventures magazine.
"Introduction" to No Torrent Like Greed by C.J. Henderson (Bold Venture Press, 2015), trade paperback, Henderson's last and long-lost Jack Hagee novel. Wild hard-boiled fun!
"Introduction" to Pulp Jazz by Charles Beockman, Jr. (Bold Venture Press), the wonderful story of Charles' life in writing pulp fiction and playing hot jazz for over six decades!
"Introduction" for The Bleeding Scissors & The Evil Days by Bruno Fischer (Stark House Books, tpb), two classic noir crime novels.
"There Ain't No Men in Heaven" western story will be published in a South Korean western e-book. Also  some of my other stories will be published in South Korea online, in Korean.
Ten of my Sherlock Holmes pastiches will be published online by Delos Books in Italy, in Italian.
"Old Aunt Sin" a western story will appear in The Digest Enthusiast #3, later in 2015.
"An Interview with Gary Lovisi" and my article on Australian Action Comics digest size vintage paperbacks appeared in The Digest Enthusiast #2, June, 2015.
"The Wrinkled Yeti of The Club Foot and His Abominable Life" will appear in a future issue of Sherlock Holmes Mystery Magazine.
"Sherlock Holmes -- In The Cards"  an article about he 1923 UK Turf Doyle cigarette cards series will appear in a future issue of Sherlock Holmes Mystery Magazine.
"Watson -- The Perfect Partner" an article will appear in a future issue of Sherlock Holmes Mystery Magazine.
"The Ironic Story of the Stevenson -- Doyle Letters" article appears in Sherlock Holmes Mystery Magazine #16, May 2015.
"Happy Birthday, Mr. Holmes" appears in Sherlock Holmes Mystery Magazine #15.
"Challenger's Titanic Challenge" is a new Professor Challenger and Sherlock Holmes story about the Titanic tragedy just out in Sherlock Holmes Mystery Magazine (issue #12, Wildside Press).
"Five Fingers" a new horror story, based on W.F. Harvey's "The Beast with Five Fingers" in The Monkey's Other Paw edited by Luis Ortiz (trade pb. nonstop Press, www.nonstoppress.com).
My article on George R. Stewart's SF masterpiece Earth Abides is in the e-zine Big Shy #3 as part of the article on UK Gollancz SF.
A new Purple Scar pulp crime story "The Murder Syndicate" will appear in the new book on this pulp hero from Airship27 Productions later this year.
"For Fear of Winning" a gambling western crime pulp story in the online magazine, Yellow Mama, nicely illustrated by Stephen Coney.
"Revisiting The Wages of Fear" crime noir article on this classic book and firm in Big Sky #2, at www.efanzines.com.
Two of my cat stories "Mrs. Milligan's Cat" and "Cat on a Hot Tar Roof" have been reprinted in the Wildside Books e-book magapacks on cat stories.
Coming up in Blue Sky ezine, "Future Noir: Eric Brown's Bengal Station Trilogy," a terrific SF noir series.
"The Noir Trap" article in the Noircon 2014 program book, The Devil and Detective Webster.
"An Appreciation of Dan Roberts" article about this beloved fan, friend and book collector in the Heritage Art Auction Catalog, Oct. 2014.
The Winged-Men pod cast on The Book Cave, done Friday Jan. 24, 2014, issue #266, where I and the Cave guys talk about my new book, ERB, heroic fantasy and John Carter of Mars.
My interview with vintage paperback cover artist Mitchell Hooks from Paperback Parade #7 was reprinted on the Leif Peng's website http://today's inspiration.blogspot.ca/website-blog.Canada.
Just out for those of you that enjoy AUDIO versions of books: FOUR of my new books have just been posted on www.Audible.com. They include Driving Hell's Highway, Mars Needs Books, Murder of A Bookman, Violence is The Only Solution, and Gargoyle Nights. All are read by fine actors who bring drama and great mood to the stories and characters and the prices are affordable. Why not givethem a try on your device?
"A Study in Evil" my Sherlock Holmes story from SHMM was reprinted in the Sept issue of Hayakawa's Mystery Magazine, in Japan.
"An Interview with Gary Lovisi" on Dan Andriacco's blog discussing my new novel The Mystery Surrounding Watson's Lost Dispatch Box, at www.danandriacco.com.
My short story "Stoop-It" was reprinted in the anthology Protect.
"Teeth" an original wild horror story upcoming in the new Weird Tales magazine.
"Ruba Rombic Robbery" an original Bentley Hollow short crime story (see Murder of A Bookman), upcoming in Sherlock Holmes Mystery Magazine #9.
"The Phantom Menace" an original Phantom Detective pulp crime story will be in a new Phantom Detective anthology to be published by Airship 27 Productions. I still owe them a new 5,000 PD story which was delayed by Hurricane Sandy.
"Sherlock Holmes & The German Serials" an original article about these rare and lovely German dime novel-type books of the early Sherlock Holmes, amazing stuff, really cool, out now in Sherlock Holmes Mystery Magazine #8.
"Charles Beckman, Honky-Tonk Girl and I" on Ed Gorman's mystery crime blog, http://newimprovededgorman.blogspot.com talks about Charles and his work and new edition of HTG.
"The Fenton Art Glass Mystery" in the mystery anthology, More Whodunits, edited by Robert Reginald (Wildside Press, trade paperback), out now, $20.
END